Customised Drinking Straws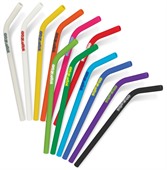 Promote your business while helping save the planet with our branded Silicone Drinking Straws.
100 min.
View Info
+

Compare List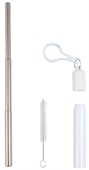 Join the fight against plastic pollution with Customised Reusable Collapsible Metal Straws In Tube.
250 min.
View Info
+

Compare List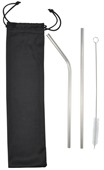 Promotional Quench Metal Drinking Straws And Cleaner provide an eco-friendly alternative to harmful plastic.
100 min.
View Info
+

Compare List
Reusable Drinking Straws are the perfect way to say you care about the environment. Stop all the wastage from disposable drinking straws and buy these instead. They are made from stainless steel and can be used for hot or cold drinks and are dishwasher safe. Most come with a brush for easy cleaning. People can just pop them in a bag or pocket. Packaging can be branded with pad print, engraving or some have options for a full colour digital print, so why not try them out. Ideal for restaurants, bars and clubs, promote your business while being friendly to the environment
More Drinkware Accessories...