Promotional Homewares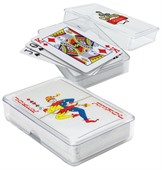 The personalised ace playing cards is a classic card game that will delight your clients.
100 min.
View Info
+

Compare List
Light up your brand image with Customised 50hr Soy Wax Candles.
50 min.
View Info
+

Compare List
We have an ever expanding range of homeware accessories ready for custom branding with your logo. We have scented candles and soon we'll have a range of other products that are perfect to promote your brand. Ideal for real estate agents or perhaps home builders who want to leave a gift for the buyers, you can't go wrong with branded promotional items for the home
More Homeware...