Promotional Sharpeners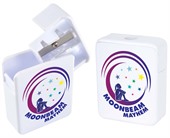 Sharpen your pencil while keeping your desk neat with our personalised Flip Top Pencil Sharpeners.
500 min.
View Info
+

Compare List
Create sharp pencil points with these personalised Double Pencil Sharpeners.
250 min.
View Info
+

Compare List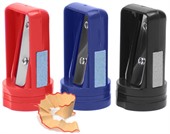 Carpenter Pencil Sharpeners can be decorated with your own logo.
100 min.
View Info
+

Compare List
Promotional Sharpeners custom printed & personalised with your advertising logo. Great for office staff, artists, kids, university students and individuals are always happy to receive a pencil sharpener as a promotional giveaway. These are great for promoting office or school supplies and they are perfect for adding to job fair goodie bags. They are cheap to buy in bulk and easy to brand with pad printing, so why not buy some today for your business.
More Pencils...