Safety Breakaway Lanyards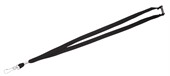 12mm Safety Black Lanyards comply with health and safety regulations.
100 min.
View Info
+

Compare List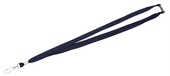 12mm Safety Navy Blue Lanyards are recommended for school events.
100 min.
View Info
+

Compare List
Safety breakaway lanyards are available in black or navy blue for immediate shipment to anywhere in New Zealand. Buy at cheap, wholesale prices. Both lanyard styles come with a simple j hook attachment that is easy to attach either a card holder or some keys. If your company, office, warehouse or event needs OHS, then safety breakaway lanyards are what you need. The plastic clip at the back is designed to relese the lanyard from the wearer's neck if it is pulled hard. Ideal for anyone working near machinery or for teachers in school yards.
More Lanyards...